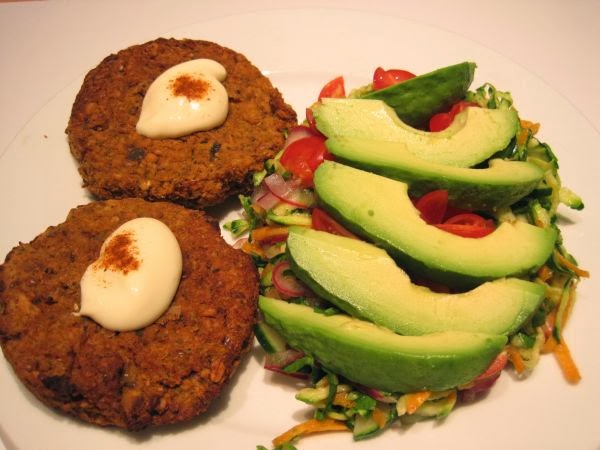 Vegan burger patties and salad
Burgers are always a great meal, but vegan versions can be a bit bland.
The store bought ones always seem over processed.
My first shot at homemade vegan burger patties was last year while we we travelling on the boat in Netherlands. See this post.
As good as those were, I'm sure they could be improved in a number of ways.
So I am now on a sort of mini mission to come up with my ideal vegan burger patty.
First I did some 'googling' – amazing just how many recipes there are out there. And most of them sound delicious.
But then I realized that whatever the flavour or name of the burger, there is a common theme running in all of them:
They all contain some type of beans, chickpeas or lentils, some kind of vegetable or vegetables, selection of spices for the flavour, and something to glue it all together – flour, or oats or rice for example.
This last ingredient, the glue, is probably the most important. I'm sure we have all had the problem of patties or croquettes etc falling apart. Most annoying!
Among the googling, Karen found this post – 5 tips on making the perfect veggie burger – no falling apart! Absolutely brilliant. Thanks to One Green Planet for this.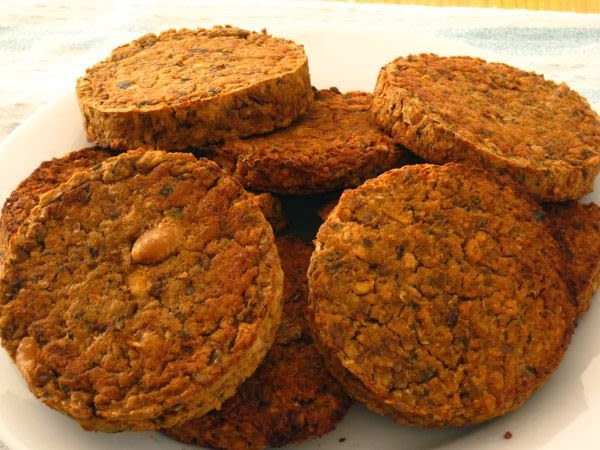 Perfectly shaped vegan burger patties
Armed with all these ideas, I tried again.
We had aubergines (brinjals) already cooked up with onions and garlic – the veggies.
From the staples in the larder I found 2 tins of butter beans. Rinsed and drained them.
A selection of herbs and spices, and of course a pinch or so of rock salt and freshly ground black pepper to taste.
And the glue – rolled oats and oat flour, with a few linseeds.
From the 5 tips mentioned above, I think no 1 (controlling the moisture) and no 4 (using a mold) are the most important.
I didn't do quite as good a job with the moisture problem, and my mixture was still a touch wet.
But I did use our burger maker, which turns out perfectly even patties.
I put all the ingredients in the food processor and pulsed for a few times, and formed the mix into 8 patties.
Baked them in the oven, at 180 degress C for about 30 minutes.
We served them up with a dollop of vegan mayonnaise and a salad.
This attempt was pretty tasty, but we are not there yet. Still more work to do on getting the moisture content right.
The other thing is to make them a little more chunky in content.
One recipe suggests using only about 3/4 of the beans or whatever in the food processing stage, and mixing in the remaining 1/4 whole by hand afterwards.
I would welcome any other tips or ideas to come up with the ideal vegan burger.
Will keep experimenting and keep you posted.
Bon apetit.