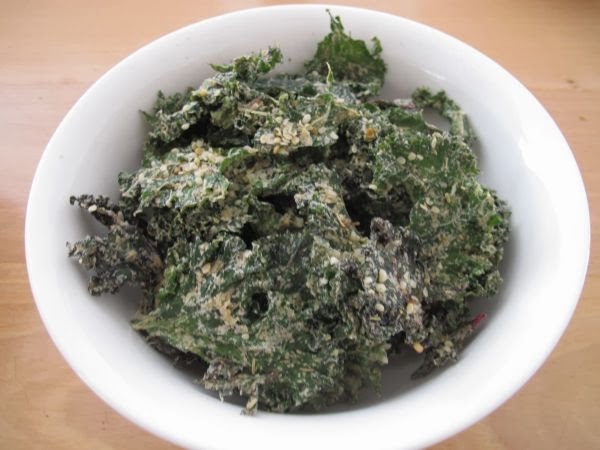 Kale chips
Since we started getting into this raw stuff, we have discovered kale, and kale chips.
Organically grown kale, which we use frequently in our green juices, is available at the weekly Hope Street Market in Cape Town.
One CAN buy kale chips, but even though they are delicious, they are hellishly expensive.
However, I found a recipe for these delicious snacks in Natalie and Noel's 'easy living food'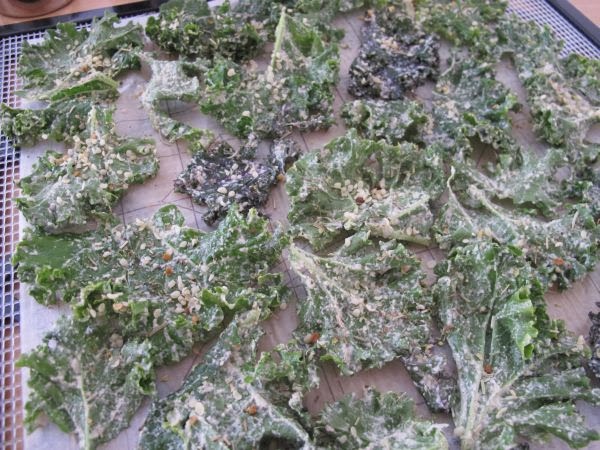 Kale chips ready for dehydrating
You need:
1 Kg of kale – reduces to about 500 grms when trimmed
2 C cashew or macadamia nuts
3/4 C water
1/4 C hemp seeds
2 T hemp powder
2 lemons, peeled
2 t salt
1 T mixed Italian herbs
Method:
Remove all the woody stems and pieces from the kale, and wash the leaves to remove any soil.
Tear the kale leaves into palm sized bits.
Blend the lemon, hemp powder, nuts, water and salt in a high speed blender until it is a smooth cheezy paste (you will need to use the tamper quite a lot to push the mixture into the blades).
Put the kale and the cheeze into a bowl and massage till the kale is well coated.
Lay out onto dehydrator trays (do not overlap too much as this will increase the drying time).
Sprinkle on the hemp seeds and herbs.
Dry until crisp.
Notes:
This is a basic recipe. You can vary the herbs or ingredients to change the flavours. I add nutritional yeast to make it more 'cheezey'.
The recipe says dry for 24 to 36 hours. I have always found I need less drying time.
You can dry these in an oven, at a low temperature – about 70 degrees C.
Next week –
I have been doing a lot of raw recipes lately, and frequently mention dehydrators, high speed blenders or juicers.
Next week I will show the various gadgets that are the 'must-haves' in a truly raw kitchen, as well as a little about 'going raw'.
Till then – Bon Apetit!