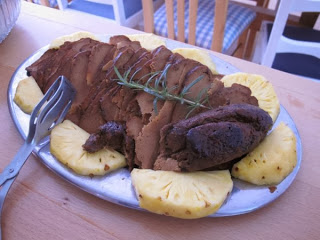 Vegan ham
We have been wanting to do more with seitan, but simply have not got around to it.
Karen's parents, who are hard core carnivores, are here for Xmas, so we needed to produce something 'meatlike' for Xmas lunch yesterday.
Karen did a brilliant job and came up with this vegan ham, or gammon. It looked just like a piece of roasted meat, had an incredibly meatlike texture, and was very tasty as well.
She made it the day before, and we served it cold.
Here is the recipe she finally used: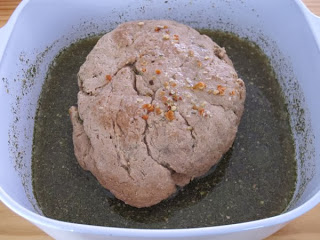 'Ham' ready for cooking
Ingredients:
Dry mix –
1 C gluten powder
1 C soy flour
2 Tbsp nutritional yeast
1 tsp onion powder
1 tsp garlic powder
1/4 tsp white pepper
Wet mix –
1 C water
1 400grm brick of Smoked Tofu
1 1/2 T tamari
1 1/2 T tomato paste
Cooking broth –
2 C hot vegetarian broth
2 1 heaped T brown sugar
1 T mild flavoured oil
Method:
Wet mix – blend all ingredients till smooth. (use either a high speed blender, or a stick blender)
Mix all the dry ingredients in a large bowl. (this needs to be well mixed, with absolutely no lumps of gluten flour)
Add the wet mix to the dry mix and knead well until it is well mixed. You may need to add a little water to ensure all the dry ingredients are absorbed.
Let the dough rest, and make the cooking broth in a bowl.
Preheat the oven to 200 deg C.
Shape the dough into a flat oval shape.
Put the 'ham' into an oven proof container, and pour over the cooking broth.
Cook for about 2 hours, turning and basting it a few times. You might need to add a touch more water.
Once cooked, let it cool.
Slice it thinly and serve cold, garnished with pineapple slices.
Bon apetit and happy Xmas.