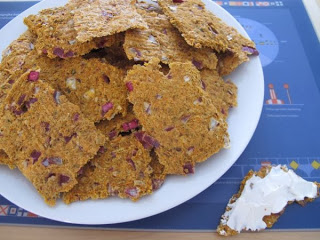 Carrot flax cracker biscuits
I am beginning to sound like a stuck record, but this raw food concept is just amazing! (I usually hate that word!)
The food is not only so tasty, but extremely satisfying without leaving you feeling full or bloated.
Another of my pet hates is wasting food. The other day I made some raw mini carrot cakes (coming up in a post shortly), for which I needed carrot juice.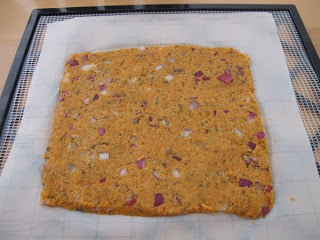 The mixture spread on the tray ready for dehydrating
After juicing the carrots, I was left with a pile of carrot pulp.
I kept this in a plastic bag in the deep freeze until my next dehydrating session, in which I planned to try making raw pizza bases (also coming up soon).
I used the Flax-vegetable Crackers recipe from Peter and Beryn Daniel's Rawlicious book as a base.
I upped the quantities a bit as I had quite a large amount of carrot pulp, and as I didn't have dried mixed herbs, used liberal sprinklings of basil, origanum and rosemary.
The result was wonderful!
Here is the recipe as per their book:
Ingredients –
2 Cups golden flax seeds, ground
5 – 6 courgettes, chopped
1 onion, chopped
1 clove garlic
1 T mixed herbs
1/8 Cup olive oil
1/8 Cup tamari
1 t rock salt
Method –
Put all ingredients into a food processor or blender and blend till smooth.
Spread mixture out onto solid dehydrator sheet.
Score mixture into squares or rectangles or wedges.
Dehydrate for 8 to 12 hours.
Turn onto mesh sheets and dehydrate for a further 1 to 2 hours, or until dry and crispy.
Notes
I found I need a little less drying time.
If you don't have a dehydrator, you could try using your oven on a low temperature, with the door slightly open.
I haven't tried this, so not sure how long drying time you would need.
You can get this recipe book from Peter and Beryn's website – Rawlicious
Coming up in the next weeks: Raw pizza base and mini carrot cakes.
Bon apetit.