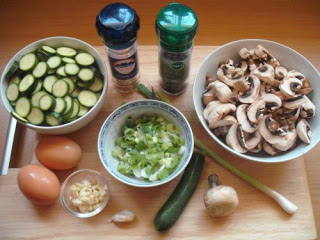 Fritata ingredients
Karen and I are putting together a website of the same name as this blog – Meat Free Everyday.
At the beginning, I wondered if there was room for yet another site about food and recipes.
But over the last few weeks I have been amazed at the number of people who do not seem to know how to cook for vegetarians, or who want to eat more healthily and havent any idea what to do.
About a week ago Karen met a girl who had become vegetarian, but was struggling with her health. She didnt really know what to eat other
than vegetables, and so was not getting any of the right nutrients in her diet.
We are going to friends for dinner this weekend, and they immediately aked for some idea as to what to prepare for Karen.
So it is reassuring to know that maybe we are on the right track.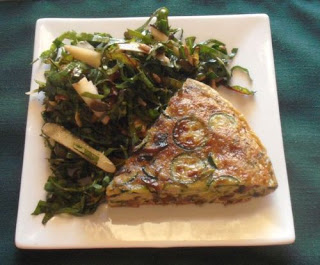 Fritata and green salad
So on to one of my favourite vegetarian meals – a fritata.
In this case, a courgette and mushroom one. I served this dish last night for some friends who came to dinner. They loved it.
You will need:
6 eggs
about 6 or 8 baby courgettes, thinly sliced
large handful of mushrooms, also thinly sliced (the brown mushrooms are tastier than the white button variety)
4 or 5 spring onions, or 1 medium onion, finely chopped
2 cloves of garlic, also finely chopped
couple of dashes of olive oil
ground black pepper and sea salt
some dried sweet basil
What to do:
Heat the olive oil in frying pan, and saute the onion and garlic for a few minutes.
Add in the courgettes and cook for about 3 minutes.
Then add in the mushrooms.
Add a twist of black pepper and salt.
Cook slowly till all the veggies are tender and reduced down in size.
Meanwhile, break the eggs into a bowl and whisk together till well blended, adding in again a little salt and pepper and the dried basil.
When the veggies are cooked, let them cool for about 10 minutes before folding into the eggs.
Pour the whole mixture into a heated non stick frying pan.
You shouldnt need any more oil in the pan. There is enough oil in the mixture from frying the veggies.
You can either cook it covered, very very slowly on a low heat. The fritata needs to cook right through without burning the bottom.
Or you can cook it on the plate till the bottom and edges have solidified, and then put the pan under a grill to cook through from the top and brown it at the same time.
I have a gas hob and do it this latter way.
Serve with a green salad.
My recipe for the salad in the next post.
For more low carb and meat free recipes go to the recipes home page on – this link.
Bon Apetit