Raw Valentine's Day cake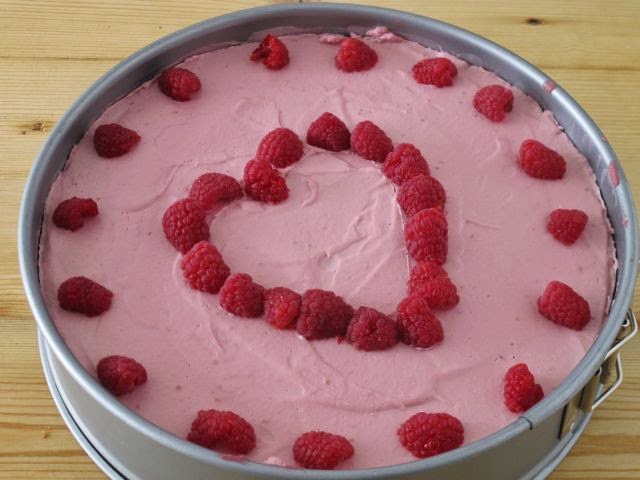 Raw vegan Raspberry Cheezecake
I haven't made a raw cheezecake for ages.
Our latest favourite recipe books is 'Leafy Green Cafe' by Antonia De Luca.
She has some delicious raw desserts there.
I made my version of her Strawberry Cheesecake.
Apparently strawberries are among the worst crops for being heavily sprayed with pesticides, so I rather made it using raspberries, and a few other minor changes.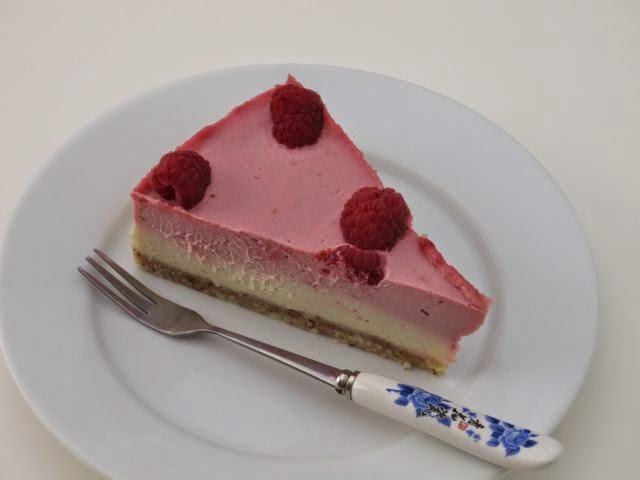 Slice of Raspberry Cheezecake
For the crust –
Ingredients:
1 C raw almonds
1 C raw cashews
1 t vanilla extract
3 T agave nectar
1 T coconut oil melted
pinch of salt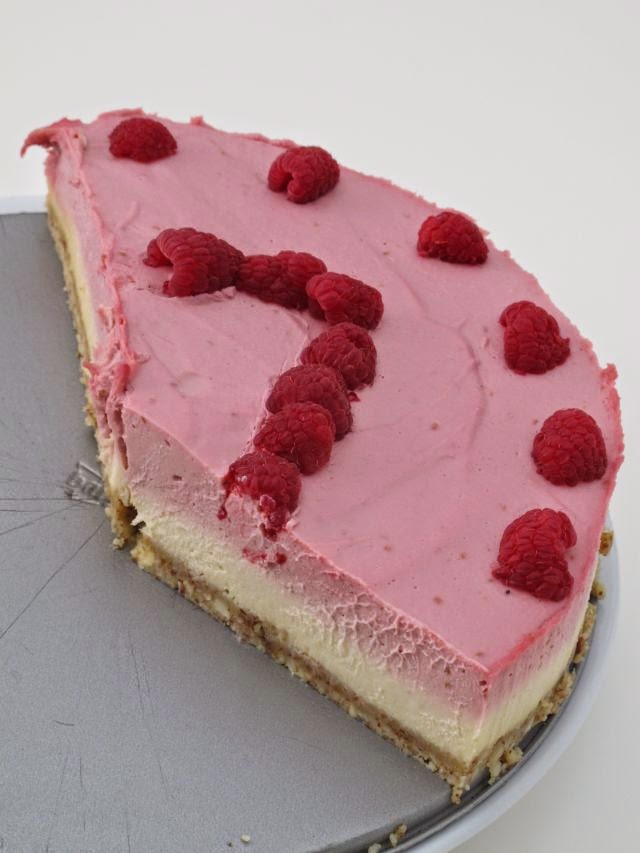 Method:
Put all ingredients into a food processor and process till smoothish.
You want to retain a bit of crunchiness.
Press into the bottom of a 23 cm springform tin.
Keep in fridge while making the filling.
Filling –
Ingredients:
3 C cashews, soaked for a while
1/2 C agave nectar
about 4 stevia tablets in 1/4 C water
1/2 C coconut oil melted
1 1/2 cups nut milk (or soy milk or rice milk)
3/4 C lemon juice
3 T lecithin powder (soy based)
pinch of salt
About a cup of fresh raspberries
A few more raspberries for decorating.
Method:
Put all the ingredients EXCEPT the raspberries into a high speed blender and whizz till really smooth.
Pour half this mixture onto the base in the tin, for the first layer.
Add the cup of raspberries to the remaining half in the blender and whizz up again till smooth.
Pour over the first layer.
Decorates the top with the remaining raspberries.
Keep in fridge to set.
Enjoy.