Seed cracker biscuits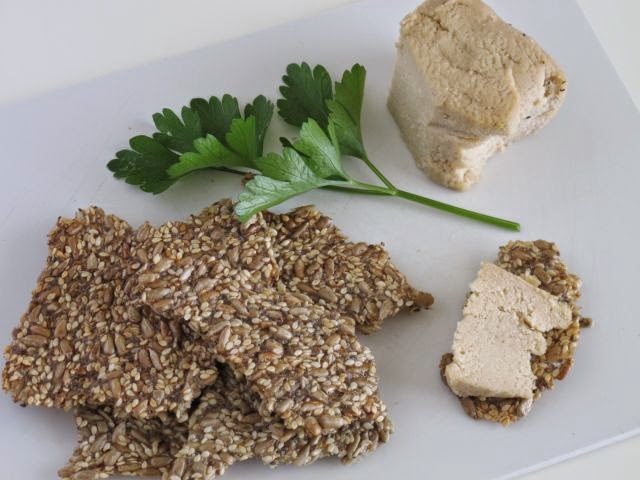 Seed crackers and nut cheeze
I am not at all a fan of these fad 'diets' that keeping popping up, rather preferring the overall healthy approach to eating.
The recipe book that is all the rage in South Africa at the moment is 'The Real Meal Revolution' by Prof Tim Noakes, Sally-Ann Creed, Jonno Proudfoot and David Grier.
This book is certainly not raw or vegan but it does rather fit the description of this overall healthy approach to eating … and there are a lot of plant-based food recipes.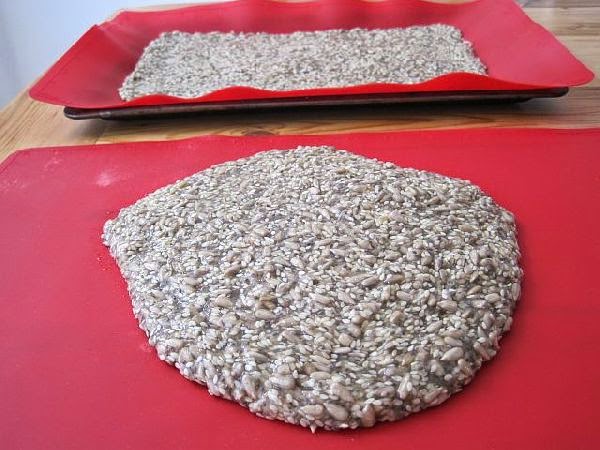 Spread mixture onto silicone mats
To get away from 100% raw for a while, Karen made their Nutty Crackers which is basically a seed cracker.
You could get quite creative and add herbs or spices for different flavours.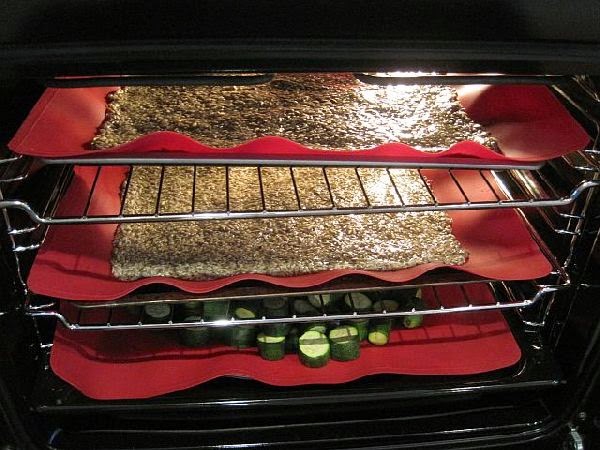 Bake in oven
This is the basic recipe –
200 g sunflower seeds
60 g flax seeds
100 g sesame seeds
2 T psyllium husk
500 ml water
1 t salt
Preheat oven to 160 deg C.
Mix all ingredients in a bowl.
Allow to stand for about 10 mins till the mixture goes thick and pliable.
Spread the mixture as thinly as possible onto one or two silicone mats on baking trays.
Bake for about an hour, turning occasionally to avoid the hot spots.
Once done, remove from oven, allow to cool and then break into pieces.
Store in airtight container.
I would have scored the mixture before baking to make it easier to break into same size pieces.
These go well with any spreads.
We served them with our home made nut cheezes.
This book provides very interesting reading, and recipes, even though as I said it does not claim to be vegan or raw, and is available at most bookstores in SA.
Next week – the nut cheezes – raw and vegan!
Bon apetit.