Pea and Potato Curry – vegan too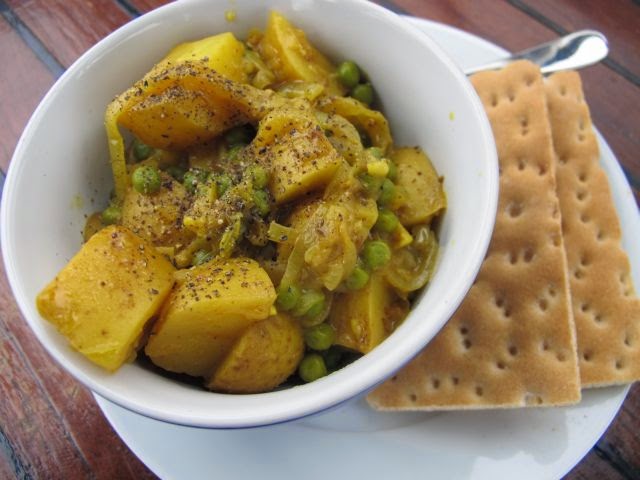 Pea and Potato Curry
Back in the kitchen at last. On my travels I bought a copy of the BBC Vegetarian Summer magazine.
There are loads of recipes in this issue I want to try out, and make them vegan if possible.
Here is my version of their pea and potato curry. They used yoghurt which I have replaced with soy cream.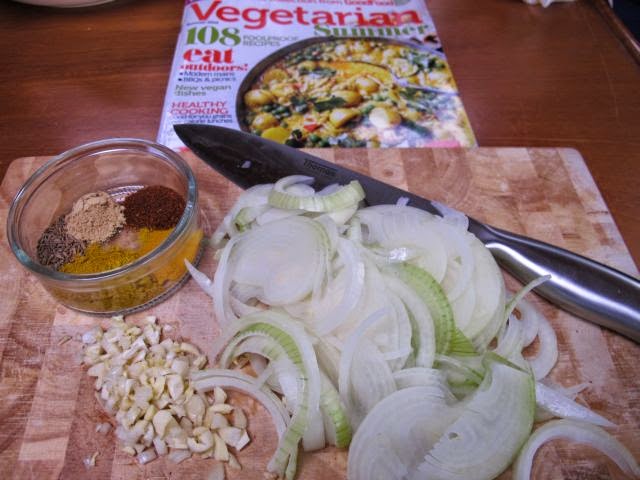 Ingredients
Ingredients:
1 tbsp olive oil
2 onions, sliced
3 cloves garlic, finely choppped
1 tsp mild chillie powder
1 tsp ground ginger
2 tsp cumin seeds
1 tsp curry powder
1/2 tsp turmeric
750 grms new potatoes, halved
juice of one lemon
about 300 ml soy cream
about 250 ml vegetable stock
300 grms peas (fresh or frozen)
Method:
Heat the oil in a large pot, and cook the onions on low or medium for about 10 mins.
Add the garlic and cook for a few more minutes until onions are soft.
Add in all the spices, stir in well and cook for a few minutes.
Stir in the potatoes and the lemon juice, coating well in the spice mix.
Add in the soy cream and veg stock and simmer slowly for about 35 mins until the potatoes are soft and the liquid has reduced down.
Stir in the peas and cook for another 5 mins or so.
And serve! However you like.
It was delicious and would have been even better with some chopped fresh coriander stirred in immediately before serving.
Unfortunately I had not been able to get any.
Curries always improve with age, so I made this one in the afternoon, and we ate it the next day.
Thanks again to BBC Vegetarian Summer mag for the basic recipe.