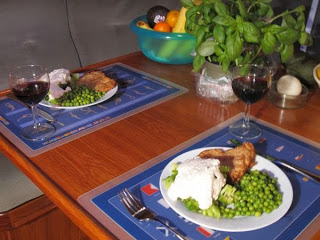 Broccoli Cheez meal aboard
I can't decide which is easier – going vegan, or going raw.
We manage a bit of both while on the boat. Here is a quick and delicious light meal we had one evening:
Soy schnitzels, broccoli cheez and green peas. Not entirely raw but 100% vegan.
The soy products were no doubt cooked in the manufacture, but we ate them cold.
The green peas were frozen, so we steamed then lightly.
For the broccoli cheez, I used the recipe from this previous post, with one exception.
The one ingredient we have not been able to find here in the Netherlands is nutritional yeast, so I used a heaped dessert spoon of Marmite instead, and the result was perfect.
Here are the original ingredients and recipe for broccoli cheez:
2 or 3 cups of broccoli florets
Boiling water for blanching
1 C cashew nuts
3/4 C warm water
1 Tbsp nutritional yeast
1/2 tspn rock salt
What to do:
Place the broccoli in a serving bowl. Pour some boiling water over and let stand for 10 or so minutes.
Put all other ingredients in a high speed blender and whizz on high till the sauce is smooth and warmed.
Drain the water from the brocolli.
Pour the sauce over the brocolli and mix well.
Serve right away.
We have eaten very well while travelling aboard, and have been fairly good as far as being raw or vegan. But I am looking forward to getting back home to our kitchen complete with dehydrater, high speed blender and juicer. Really missing our Green Juices!
Till then – Bon Apetit.