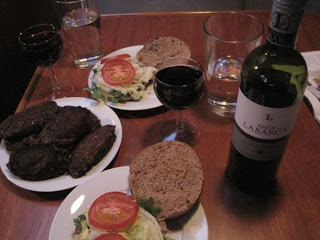 Our vegan burger patties on the boat
Karen and I are fortunate enough to be on our own boat, cruising the waterways of Holland.
At the same time, we're determined to eat not only healthily, but to continue to strive to be vegan and raw as much as possible.
To this end Karen avidly reads both our raw recipe books and collection of Cook Vegetarian mags which we now keep on the boat.
We have found quite a few health shops in Holland which have pretty good stocks of raw ingredients we have gotten used to.
Karen had some left-over steamed rice – just what was needed to try out the vegan burger patty recipe from Cook Vegetarian July issue.
Here's their recipe:
Ingredients
1 tbsp olive oil
1/2 onion, coarsely chopped
1 clove garlic, chopped
1/2 fresh chilli, chopped
coarse salt
350 grams kidney beans, cooked and drained
160 grams basmati rice, cooked
60 grams carrot, shredded
35 grams brocolli florets, finely chopped,
2 tbsp ginger, peeled and grated
2 tbsp fresh coriander, chopped
1 tbsp canola oil
12 wholewheat rolls
lettuce, mango, coriander and onion to serve
Method
1 Heat the olive oil in a pan. Add the onion, garlic, chilli and salt. Cook until the onion is soft. About 5 minutes.
2 Pulse the beans in a food processor to a coarse mash. Pulse in the rice.
3 Stir together in a bowl the bean mixture, the onion mixture and the carrot, brocolli and ginger. Mix well.
4 Form into 12 1 cm patties.
5 Heat the canola oil in a griddle pan, and cook the patties until golden and crisp – about 3 minutes per side.
6 Serve up in the rolls with whatever salad or garnish you prefer.
As usual, I did a few things slightly differently –
1 Replaced the fresh chilli with chilli powder.
2 Did not use brocolli but doubled up on the carrot (trying to use up what we had).
3 We don't have a food processor on the boat, so used our stick blender instead.
4 Cooked the burger patties in coconut oil (which is our new favourite).
5 Used larger rolls and formed larger patties.
We served up with lettuce, tomato and fresh coriander. Delicious.
Not strictly 'raw' – the rice was steamed, and the burger patties were lightly warmed through in the coconut oil. They look dark mainly due to the red kidney beans.
Although the patties are vegan, the rolls were bought, so may have contained eggs and milk.
Bon apetit!