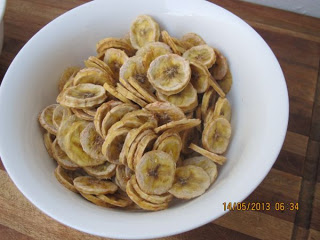 Dried banana
The last few recipes have made use of our new dehydrator.
The thing with a dehydrator is you have to generally dehydrate things for anywhere between 8 to 30 hours, or even longer.
Our one (Excalibur) has 9 shelves. So if you are going to be running it for that length of time, you might as well fill it up.
This is a good chance to use up fruit that might be just about to over-ripen. If you dehydrate them, you can turn them into snacks.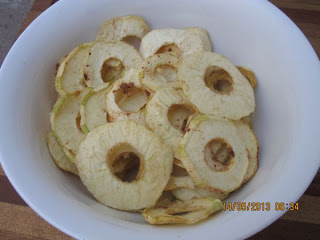 Dried apple rings
Here are 2 simple examples:
Dried apple rings and dried banana.
Core the apples and slice into rings.
Slice the peeled bananas.
The trick is to make sure all the slices are the same thickness. Aim for about 3 mm.
Toss in lemon juice to stop them going brown.
Spread out on the spare solid dehydrator sheets.
Or use baking parchment.
Dehydrate along with the other food.
The dehydrating time for fruit will be somewhat less than the breads or brownies.
Check after 6 or 8 hours, and remove them when they are sufficiently dry.
Of course you can experiment with other fruits, think mango, papaya, pineapple, peaches and even berries.
Just have fun, and happy, healthy snacking!