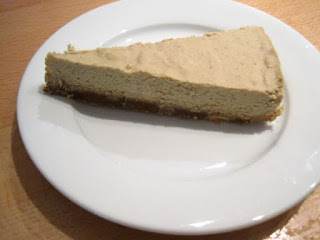 My raw classic cheezecake
As promised, here is the recipe for the raw classic cheezecake.
This is the same dessert that was served up at the Raw Food seminar a while back, and I am pleased to say, I think my one turned out just as well as the pro's one.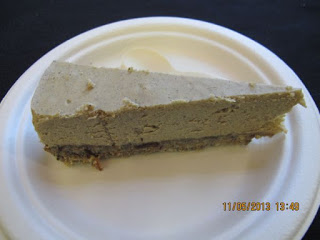 The pro version – raw classic cheezecake
The base –
Ingredients:
2 C almonds activated & dried
2/3 C coconut blosson sugar
1/4 C coconut oil
pinch salt
Method:
Place all ingredients into a food processor and process until well mixed but slightly chunky.
Press mixture into a springform cake tin.
Filling –
Ingredients:
4 C diced fresh pineapple
1 + 1/2 C coconut oil melted
1 C cashew nuts
2 T lemon juice
2 T agave nectar
1 T vanilla powder
pinch salt
Method:
Add all ingredients to a blender and process until smooth.
Pour into crust.
Refrigerate for at least 6 hours.
A couple of differences with my version-
1 – The almonds in the base were only soaked for a hour or so, and not fully activated and dried.
2 – To make the base, I used a hand blender rather than the food processor, mainly because the quantity hardly covers the blades of the processor.
The recipe came from 'easy living food' recipe book, available from Rawlicious
Bon apetit!