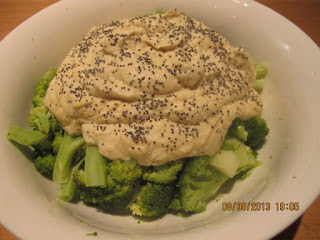 Brocolli cheeze
Last week I promised you brocolli cheeze. So here it is.
The original recipe came from "easy living food" by Natalie Reid and Noel Marten and they used cauliflower.
The book is available on line from the Rawlicious website.
Ingredients:
2 or 3 cups of brocolli florets
Boiling water for blanching
1 C cashew nuts
3/4 C warm water
1 Tbsp nutritional yeast
1/2 tspn rock salt
What to do:
Place the brocolli in a serving bowl. Pour some boiling water over and let stand for 10 or so minutes.
Put all other ingredients in a high speed blender and whizz on high till the sauce is smooth and warmed.
Drain the water from the brocolli.
Pour the sauce over the brocolli and mix well.
Serve right away.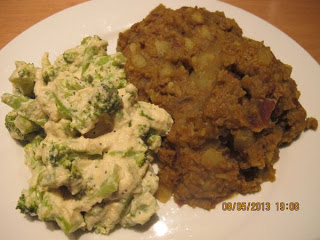 Brocolli cheeze with a veg curry
Quick, easy and very tasty. An excellent introduction into preparing, and eating raw foods.
Serve as a main, or as an accompaniment.
I must point out not all raw foodies are necessarily vegan, or even vegetarian for that matter.
Dehydrators can be used to make various dried meats and honey is used in many of the dessert recipes.
We attended one Raw Food seminar and the most important aspect for raw foodies seems to be using the freshest, healthiest and most nutrient-dense ingredients, organic whenever possible.
So we have been experimenting furiously with recipes, and this was my lunch yesterday: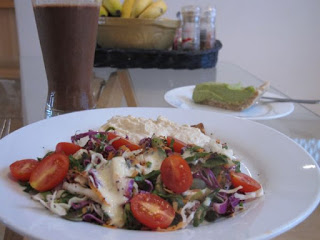 Really healthy lunch!
A warm chocolate drink – made from superfoods and sugar free.
Smoked tofu steak with a cheeze sauce – sauce was same recipe as above, but thinned with soy milk.
Fresh mixed raw vegetable salad, organic tomatoes, drizzled with veganaise – a dairy free mayonaise.
Slice of raw lemon tart – the crust included nuts, coconut and honey, while the bulk of the filling is avocado with organic lemon juice and zest, all
sugar free.
This dessert was absolutely delicious, and healthy as well.
The recipe for the lemon tart comes from the Rawlicious recipe book by Peter and Beryn Daniel which is available from Amazon or from the Rawlicious website.
The seminar we attended here in Cape Town was presented by Peter Daniel. We thoroughly enjoyed it and were completely inspired to move towards a more raw and healthy diet.
More about the seminar next week.
Bon apetit