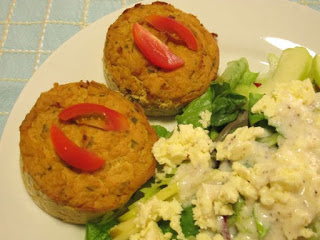 Smoked Bean Curd Bakes and salad
In a post on Courgette Latkes a while ago, I mention a Smoked Bean Curd Bake with a Walnut and Mushroom stuffing recipe.
Both these came from the Vegan Society Xmas recipe selection – see here
Well, the thing with this recipe is that the dish needs to be sort of assembled on the plate, restaurant style, rather than just dished up.
I had assembled one dish for the photo. But the the bakes were so tasty on their own that none of the remaining bakes survived long enough to be turned into creations.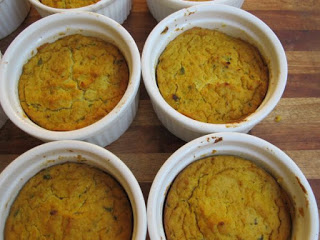 The Bakes in the Ramekins
So I decided to go with the flow and make some more smoked bakes, not bother with the mushroom stuffing, and serve them up cold with a salad.
The salad was Karen's version of a Waldorf.
A delicious meal!
My version of the Smoked Bean Curd Bakes:-
Ingredients:
Canola oil
2 onions (chopped)
2 sticks celery (chopped)
4 cloves garlic (minced or finely chopped)
Handful fresh thyme
Handful fresh basil
1 1/2 tsp turmeric
1 Tbsp Tamari or Soy sauce
3 packets smoked tofu
200 grms almond flour
2 Tbsp water
Rock salt and black pepper
Method:
Heat the oven to 200 deg C.
Lightly grease 14 ramekins.
Heat the oil in a large saucepan, and cook the onion, garlic and celery till soft.
Add in the basil, thyme, turmeric and tamari and mix in well.
Add the tofu, almond flour and water.
Season to taste.
Either – transfer whole mixture to a food processor and process till well mixed,
or mix well using a stick blender. (this is what I did, and it probably takes a bit longer this way)
Spoon the mixture into the 14 ramekins.
Bake in the oven for 15 to 20 mins, till the mixture is firm to touch and starting to pull away from the sides of the ramekins.
Allow to cool slightly. Then turn out onto a serving platter.
Thanks again to the Vegan Society for the inspiration for this one.
Bon apetit