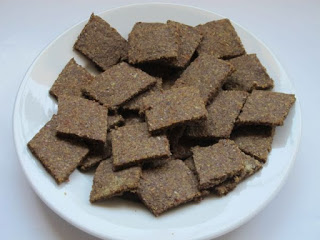 Flaxseed cracker biscuits
Any regular readers will know we try to go low-carb wherever possible.
So Karen wanted to come up with a low-carb cracker biscuit to have in lieu of bread as a snack, or with a light lunch.
Based on another homemade nacho recipe she found in a mag, she came up with this:
Ingredients:
1/4 C flour
1 C ground flaxseeds
1/2 C water
1 teaspoon soy sauce (or spices of your choice – see note below)
Method:
Mix together
Roll out between 2 sheets non stick baking parchment
Cut into slices or whatever shape you fancy
Bake @ 180 deg for 15 mins
Note – You can be as creative as you like with the flavouring. The soy sauce gives a savoury biscuit. You could go a bit Mexican by using chilli or cajun spices, or sweet by using cinnamon and/or nutmeg.
Happy cooking!