Real Food Market London
On our last day in London we decided to visit the Real Food Market – Southbank – London. We read about it in the British Airways magazine and the article said the market was located at the Royal Festival Hall. Apparently they have a market every weekend but had been quiet during the Olympics. The one we went to was an extra large annual food festival.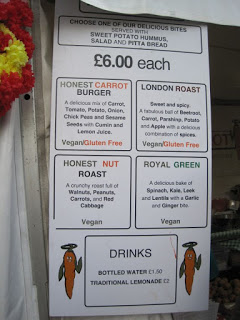 Real Food Market London
We found the market and thought it was great but not as big as we were expecting. We had lunch and a drink and were on our way home when we discovered a HUGE continuation of the market along the River Thames. So it was a big fat foodie market after all.
There were the usual tents with food from the different countries. Organic, vegan, gluten free options as well. What is really nice is to wander along the area and visit the bookstalls, see the skater folk doing their tricks, pop back for a yummy hot chocolate and a quiche or take-out salad and sit on the banks of the Thames people watching. Here – is a link to the food fair.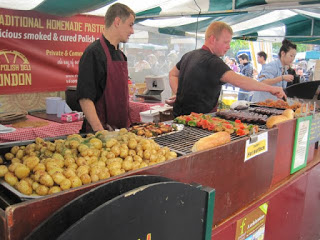 Real Food Market London
Cape Town is not to be outdone and there are couple of admittedly smaller food markets but they hold their own against the Londoners. The Old Biscuit Mill – in Salt River is a perennial favourite for a Saturday morning. The only thing is, it gets obscenely crowded and soon loses it's appeal. It's popular for good reason so get there early and you can get in and out before the maddening crowds arrive.
City Bowl Market – is another great place for artisan breads, craft beers, home made chocolates, organic honey and the like. Find it in Hope Street near Company's Gardens. And every Thursday afternoon you can find the – Earth Fair – market in St Georges walkway, near the cathedral.
You can see a selection of vegetarian recipes with a low carb bias by following – this link.