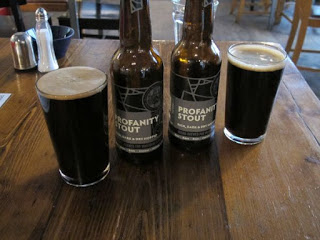 Profanity Stout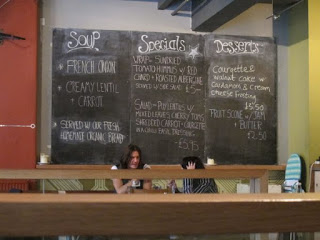 Daily specials at Stereo
In the last two blog posts, Patrick and I have spoken about eating out in Glasgow. We would not have found any of the places we visited were it not for the Vegetarian Guides. And I can't help but wish we had such a thing here in Cape Town. I am seriously thinking of doing a local version. So far we have been out to one of the veggie dinners that Laura of – Veggie Buntch – has been organising. It's a night of fine dining at a top Cape Town hotel once a month. The food is good and we have booked another veggie evening but they are pricey. (R395-00 each with a glass of wine or two to accompany the meal) Both Patrick and I believe that it is possible to enjoy good food without breaking the bank. Watch this space.
So our third night in Glasgow, we went to – Stereo Cafe Bar. Sister restaurant to Mono. We also couldn't find the place. This time it was down an alley and if you didn't know it was there, well you wouldn't know it was there. We walked past the alley a few times and never realised there was an alley.
And just like Mono, the food is fun, well priced and seriously good. The customary good natured Glaswegian waitrons only make eating there that much better. We decide to have a Profanity Ale. They serve craft beers with wicked names. Profanity is a yummy dark ale with a bit of a kick. Nothing wrong with that.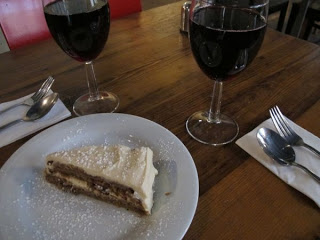 Courgette and walnut cake
Patrick and I both had a soup and sandwich combo. They seem to have different soups but they were all unique and none of the garden variety 'ho hum' dishes one comes to expect. For desert we shared a courgette and walnut cake. And a glass of wine each.
Stereo, just like Mono, also have a whole lot of action from theatre to live music, DJ's, events or you have a big fat party. I loved the quirky pin-up girls who served the food and drinks.
Next week I talk about a new cookery book. I know, another one, but this is a really inspiring and well laid out book.
Till next week . . . .
The recipe archive can be found on – this page.