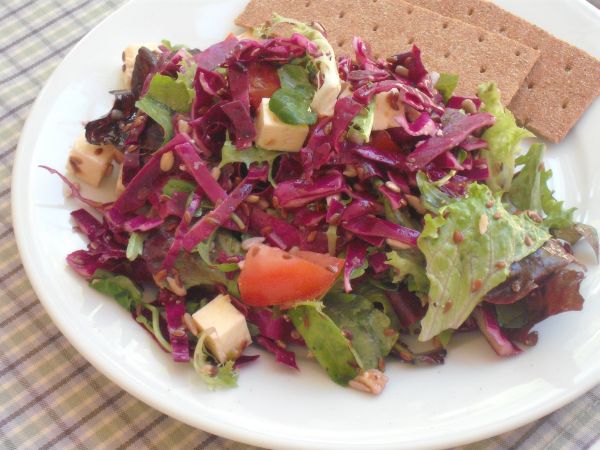 Red cabbage, leaf, feta and tomato salad with Finn Crisp crackers
Here is a typical lunch for us when we are at home. When we are out and about, I must confess it's a different story. When eating on the run it's a hundred, thousand times harder to find good wholesome food. And I can never understand why. We know for a fact that diet and health are inextricably linked. Yet the supply of wholesome fast food is almost non-existent
We always have lots of fresh vegetables at home and I make a quick salad with whatever needs to be eaten first. In this case I sliced up red cabbage, added in a few lettuce leaves, diced two rounds of feta cheese and chopped up a tomato. I sprinkled a handful of sunflower and flax seeds over the salad and topped it with a home made salad dressing.
Served with a few – Finn Crisp – or – Ryvita – crackers, it does the trick.
Salad dressings are so easy to make I cannot understand why people buy them. You can totally control what you put into your own dressing and limit the amount of preservatives, salt, thickening agents, gelling agents, colourants, flavourings, and all the rest of the rubbish manufacturers put into commercial dressings.
Save your old honey or peanut butter jars and use them to mix and shake up your own salad dressings.
A typical salad dressing is a 50/50 oil/vinegar combination with added seasonings. I use 1/3 oil and 2/3 acid. You can vary your oils and acids. Maybe use a raspberry vinegar with a seed oil like almond oil. Or try fresh lemon juice with olive oil. How about a rich balsamic vinegar with a mild sunflower oil?
And then for seasonings you can add fresh herbs, dried herbs, black pepper, crushed seeds such as caraway. Maybe freshly ground garlic, a drizzle of honey or spoon of mustard? The permutations are endless and half the fun is experimenting.
For more meal ideas and recipes go to the recipe gallery – here