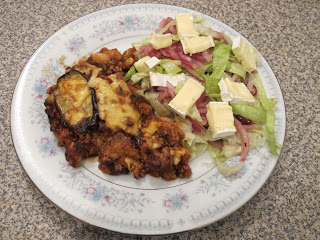 Aubergine lasagne with red onion and brie salad
Patrick follows a recipe to the letter. He turns out perfect meals when he cooks. I am a super greenie and cannot bear to waste food. I open the fridge, see what has to be used up, then figure out what to make from there. Patrick has mastered curries and stir fries. My cooking tends to be impromptu. It can be disappointing when I get it wrong. Especially when one of my flops is our meal. Hey, that's how you learn.
Coming from Africa, we could never throw food in the bin. There is always someone who is happy to eat our leftovers. We give our left-over food to homeless people. Provisions we can't eat in time go to friends and they give theirs to us.
It's so hard to see how people waste food in Europe. They order food, then leave most of it on the plate. And they still order desert! Patrick and I often look at food that goes to waste in sheer disbelief. We wonder why they ordered it in the first place? I could easily become a – dumpster diver – or a – freegan. I already make my clothes and accessories out of anything from old sheets to electrical cable. See my blog – here – or how we run a green guest house – here.
Back to Patrick's blog and this week I share a vegetarian lasagna using aubergine slices instead of pasta. A bit like a parmigiana. It keeps the carbs down.
Serves 4
Ingredients: –
2 large aubergines
1 packet ready made vegetarian mince
1 500ml passata
1 block extra mature cheddar cheese grated
1 can beans such as cannelloni or kidney beans
1 red onion
125 ml red wine vinegar
1 – 2 t stevia, xylitol or any other low carb sweetener
1 small iceberg lettuce
1/2 small brie cheese
1 T grape seed oil
Method: –
1. Wash and slice the aubergine as thinly as possible.
2. Mix the beans together with the vegetarian mince in a bowl.
3. You need to alternate layers of aubergines; beans and mince; passata and grated cheese in an ovenproof baking dish.
4. It doesn't have to be exact but finish with a layer of grated cheese on top.
5. Bake at 180'C for 30 to 40 mins.
6. Mix the sweetener with the red wine vinegar in a bowl.
7. Finely slice the red onion, add it to the vinegar mix and allow it to stand.
8. Slice the iceberg lettuce into ribbons and place in a salad bowl.
9. Slice the brie cheese and keep to one side.
10. When the lasagna is ready, cut it into squares and place a square on a plate.
11. Mix the oil in with the onions and then add the lettuce ribbons.
12. Serve the salad alongside the lasagna with the brie slices on top.
Notes: –
Adding beans to meals is an easy way to amp up the fibre and protein content. Although beans are high in carbs they are far better than refined white carbs. Modern thinking now says we can deduct the fibre content from the total carb content as most fibre is not absorbed.
I learnt from my mother is to pre-soak the onions for a salad in vinegar before you add them to the salad. It takes the bitterness out and gives them a much nicer flavour.
For more low carb, low GI meat free meals visit the recipe page – here