I have semi taken over Patrick's Meat Free Everyday blog until he has more time to himself. We're hoping that closer to the end of the year when his work contract expires he will have more time to cook, write and post.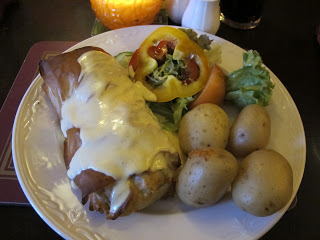 Vegetable Strudel with Boiled Baby Potatoes and Hollandaise Sauce
This recipe goes back to when we went away for a weekend earlier this year to the Scottish Highlands. We went past Glamis Castle and found a restaurant/pub called the Strathmore Arms. I don't mean to whinge but we avoid eating out as much as possible because we are almost always bitterly disappointed at the range of vegetarian food on offer. Particularly as low carbers. But we had to find something to eat that day.
This place had two vegetarian meals on the menu. And surprise, surprise neither was a pasta, a risotto or a salad. We had to try both of them. We took pics of our meals and when we came home I tried to re-create them. These recipes are my attempt to make these meals.
I had Peppers stuffed with Vegetarian Haggis and you can find that recipe – here.
Patrick had the Vegetable Strudel with Boiled Baby Potatoes and Hollandaise Sauce.
This is our recipe for it.
Serves 2
Ingredients: –
1 small onion
2 grated carrots
2 celery sticks finely chopped
1 cup of mushrooms finely chopped
filo pastry
ready made Hollandaise sauce
1 cup baby potatoes
1 handful fresh green leaves such as lettuce or cress
1 T olive oil
soy sauce
Method: –
1. Saute the onion in a little oil.
2. Add the carrot and then the celery.
3. Finally add the mushrooms and about 1T soy sauce.
4. When the veggies are cooked remove from heat.
5. Roll out two sheets of filo pastry and place half the vegetables in the middle of each piece of pastry.
6. Fold up the pastry as if you were folding a blanket or a towel.
8. Bake at 180'C for 30 mins.
9. Meanwhile boil the baby potatoes for 15 to 20 mins or until cooked.
10. Warm the Hollandaise sauce.
11. Place each filo parcel on a plate with half the potatoes and half the salad.
12. Pour Hollandaise sauce over the strudel and the potatoes.
13. Serve salad with a French salad dressing.
Notes:-
I would add Parmesan cheese to the vegetable mixture. Vegetarian haggis could be used as an easy alternative stuffing if you can buy it. You might want to make a sweet version of this strudel using fruit such as apples with raisins and cinnamon.
The recipe page is updated regularly with meat free, low carb and low GI meals. Find it – here.