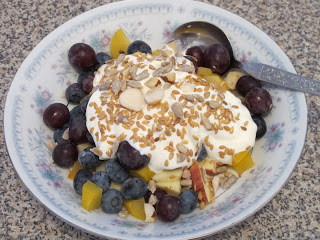 Fresh fruit and yogurt with nuts and seeds
This is Patrick's morning creation. Every now and again Karen needs a break from what Patrick would happily eat every single day of his life – muesli.
We know muesli is good for you but most commercial muesli's are full of sugar and refined carbs. Patrick makes his own low carb version. Find that – here.
Karen on the other hand, does like a bit of variety. Hence this fruit salad and yogurt. Not a huge departure, but a definite concession.
Ingredients: –
any fresh fruit in season preferably a mix of low carb fruits such as berries, plums and melons
low fat Greek style yogurt
seeds such as sunflower, sesame or poppy
nuts such as almond flakes or hazelnuts
Method: –
1. Clean and dice the fruit and arrange in a bowl.
2. Top the fruit with a generous dollop of Greek yogurt.
3. Sprinkle nuts and seeds on top of yogurt.
Notes: –
We like to lightly toast sunflower and pumpkin seeds in a dry non-stick pan. You can also garnish the fruit salad with spices such as cinnamon or nutmeg. Herbs and spices are reputed to be full of health giving benefits. And to amp up the goodness – and the protein – add ground flaxseeds. We grind ours in our coffee grinder.
Check out the recipe page – here – for more low carb, low GI breakfasts and baking recipes.