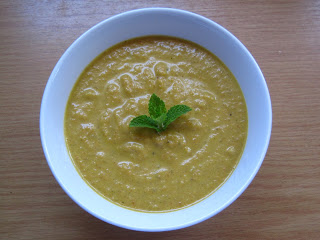 Carrot, ginger and coconut soup
Not only did I find that great vegetarian magazine while I was in UK (see my last post here ), but I was also watching my favourite chef, Jamie Oliver, on Channel 4 TV.
I discovered they have a website with all his, and other chef's recipes on line! Go to Channel 4 TV
Jamie was making a chocolate semi-freddo. Find his recipe – here
We have never had much success with making proper ice cream, so this alternative looked great, and also not too hard.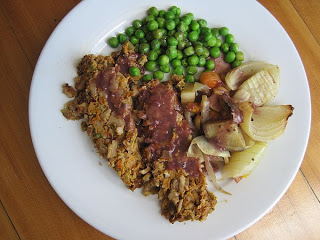 Xmas lunch – Veggie nut roast with a red wine sauce
So our whole Xmas lunch was made up of recipes from either Vegetarian Living, or Channel 4 TV website.
Our menu:
Carrot, ginger and coconut soup
Vegetarian nut roast with a red wine sauce
Roasted vegetables and green peas
Chocolate semi-freddo
The soup recipe was straight from the Vegetarian Living magazine, and is also on our website – Carrot, ginger and coconut soup
This nut roast, from the – Channel 4 – site, was very good, but I personally prefer the nut roast recipe that is also on our site – Vegetarian Nutroast
For the roasted vegetables, we chopped up sweet potato, pumpkin and onion and tossed these with whole cloves of garlic in olive oil and black pepper and then roasted for about an hour, turning occasionally.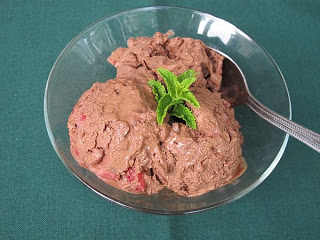 Chocolate semi-freddo
The semi freddo recipe came from the Channel 4 website.
I followed this recipe fairly closely, but used stevia instead of caster sugar.
And in the continuous attempt to avoid unhealthy foods, I replaced the crumbled meringues with finely chopped strawberries.
Still not too late to try some of these for your New Year's Day dinner!
For more low carb and meat free recipes go to the recipes home page – here. Bon apetit.