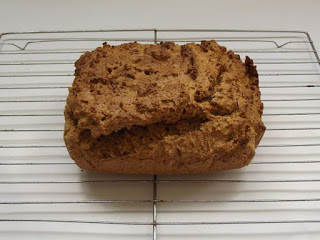 Low carb bread
I am really getting into this low carb eating, but I do miss the occassional slice of toast.
Browsing through our cookbooks, I came across this quick and easy to make low carb bread.
In fact it is the first time I have ever made bread at all. I have always been wary of trying out bread, but this recipe really was easy.
The most time consuming part was grinding the almonds in our spice grinder. But one could just use almond flour.
You can find the recipe on our website Meat Free Everyday but here it is anyway:
Ingredients:
300 grams ground almonds
Pinch of salt
1 teaspoon baking powder
4 Tablespoons olive oil
4 eggs beaten
Method:
Mix all the ingredients together.
Spoon into a 450 gram baking tin
Bake at 180 deg C for 50 minutes, or until a skewer inserted into the centre comes out clean.
Turn out onto a rack to cool.
Thanks to Rose Elliot's "The Vegetarian Low-Carb Diet".
This one has become my favourite book at the moment. You can get it from Amazon.

For more low carb and meat free recipes go to the recipes home page – here.
Bon Apetit!