Amsterdam!
We fared (pun intended) better than anticipated here.
We spent one night in an hotel in Amsterdam before heading off on our boat on the waterways, (which I will cover in the next post) and three nights in a self catering apartment in the city centre afterwards.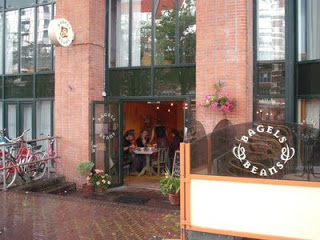 Bagels and Beans – Vegetarian Restaurant in Amsterdam
The first morning, we decided to avoid the standard hotel breakfast (Euro 15 each!) and asked the receptionist if the were any good vegetarian eating places close by.
She pointed us to 'Bagel and beans' just round the corner, near Rembrandt square, right on one of the canals.
A very pleasant spot, where we each had their bagel omelette, served with tomatoes and chives, on wholewheat bagel, and a chait latte. (Euro 16 for the 2 of us) Very
tasty too.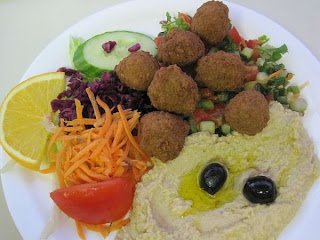 Falafels, humus and sald – in Amsterdam
Back in Amsterdam a couple of weeks later –
Before arriving here, we had been reading up in the 'Lonely Planet' guide on vegetarian or vegan eateries. There appeared to be about 8 veg and 4 vegan spots.
The biggest problem was to find one open when we wanted to go.
Holland seems to close down on a Monday, while the veg and vegan restaurants had limited and varied opening times – and we only had 2 days there, over the weekend.
So while rushing around the city centre, doing the tourist things, we came across a Turkish place that served a wonderful dish of falafels, humus and salads for about Euro 8. We also found a fast food chain called Maoz, which offered vegetarian wraps at Euro 5. And you could top up from the salad bar as often as you wanted! Great value.
De Waaghals – Vegetarian restaurant in Amsterdam
Still determined to try a proper vegetarian restaurant, we persevered and located De Waaghals which would be open that Sunday evening for dinner.
We booked, and good thing we did as it was pretty full.
They offered a scrumptious menu which you can check out at De Waaghals
Main courses are about Euro 18. Slightly expensive by South African standards, but the food was freshly prepared, beautifully presented and delicious.
We had the Summer Dish and the Indian Speciality. Both excellent.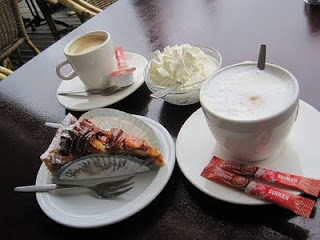 Dutch Appelgebak with cream
While in Amsterdam, we also sampled the Dutch Appelgebak – There are many variations of this recipe, but the original Dutch one seems to be noted for the cinnamon and lemon juice flavouring.
We ate it with cream as recommended! Really good! It might be vegetarian, but probably a touch on the unhealthy side.
We thoroughly enjoyed our short stay in Amsterdam, and will be back to try out the other vegetarian and vegan restaurants.
For more low carb and meat free recipes go to the recipes home page – here.
Bon apetit!