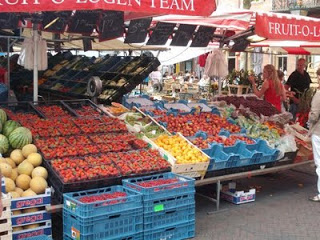 Kampen – Holland – Monday Market
We are always happiest self catering when we travel.
And it was no different this time while we cruised the Dutch waterways on our hired motor cruiser.
Have a look at our boating holiday in Holland
We did venture up to the towns, but more often that not, the vegetarian choices were predictable and boring, too full of carbs, and not particularly affordable.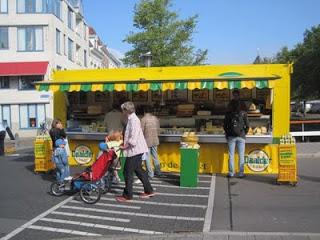 Cheese stall at Kampen Market
We found a number of wonderful fresh produce markets. The best one this time was the Monday Market in Kampen. Not only did it offer a lovely selection of fresh fruit and veggies, but the cheese stall was to die for!
There were some really tasty cheeses.
Here in Holland the age of the cheese is the main criterion. The younger the cheese, the softer and blander it is.
As they mature they become harder, saltier and much much tastier!
So we stocked up on fruit and veg and cheese.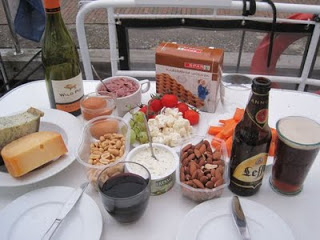 Eating aboard our boat in Holland
The supermarkets provided the humus, 'Wasa' crackers or 'Knackerbrod', a selection of tinned beans, eggs and a selection of nuts.
No meal is complete of course, without a beer or a drop of wine.
Holland isnt a wine producing country, and there are only one or two Dutch beers.
So we usually selected a French wine, and our two favourite beers were both actually Belgian – Leffe and Grimberg.
Armed with this selection, Karen was always able to produce a tasty and satisfying lunch or evening meal.
She is a master at making her own humus from tinned beans.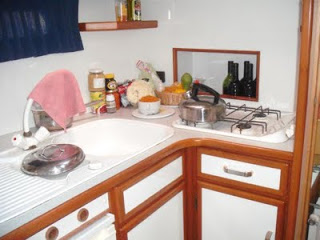 Galley aboard our boat
Absolute heaven to sit out on the aft deck, moored up in a pretty marina and dine, while watching the world go by.
On the nutritional note – any regular readers will have gathered we strive to go the low carb route, and thus no bread or potatoes feature.
Difficult to go 'No carb' and we do enjoy the cracker biscuits.
As usual the issue is to get protein into the diet – solved to a greater degree with the eggs, cheese, humus and nuts.
We would like to try going vegan, but I fear we love our cheeses too much!
For more low carb and meat free recipes go to the recipes home page on – this link.
Happy travelling and bon apetit!