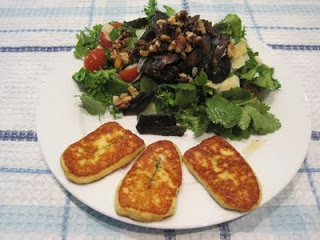 Warm winter salad
Eating healthily out here in the North Sea is not particularly inspiring!
Give them their due, they do try – but the selection is limited.
Munching my way through the 'same old' lettuce, tomato, onion and peppers, I could not help remembering the wonderfully tasty and 'different' salads that Karen has come up with.
She is a whizz at knocking up the most interesting meals.
Her last creation was the 'warm winter salad'.
The ingredients:
Mixed greens and herbs of your choice
Cherry tomatoes, halved
Dried apricots, cut into thin slivers
Pan fried brown mushrooms, cut into strips
Caremalised walnuts
French dressing
What to do:
1 – The French Dressing:
Pour equal parts oil and vinegar into a screw top jar
Add vinegar, mustard and cracked black pepper to taste
Shake well
2 – The Caremalised walnuts:
Break the walnuts into smallish pieces
Put some mascovado or brown suger in an oven proof dish
Heat in a miscrowave for 1 to 2 minutes until well melted
Remove from microwave (with oven gloves) and immediately stir in the walnut pieces
Allow to cool and scoop off the plate
3 – Assemble:
Toss the greens, tomatoes and apricots in the dressing
Pile the mushrooms on top
Sprinkle with the caremalised walnuts
We served up with some haloumi slices which I had heated and browned in a pan while Karen was doing her bit. We also sprinkled some parmesan shavings as well!
And a lovely meal it was too!
For more low carb and meat free recipes go to the recipes home page – here.
Bon apetit.