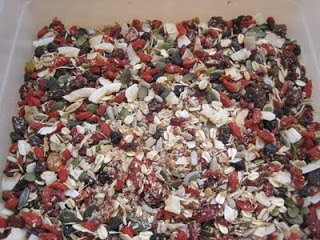 Our homade muesli mix
Still on the move trying to earn a living. In UK at the moment about to go offshore again.
I really miss our kitchen with all the useful ingredients and utensils to prepare my favourite dishes.
One meal I miss most is our homemade muesli for breakfast. Back home I usually soak a handful in soy milk overnight. In the morning I add some chopped fresh fruit, fat free yoghurt and a sprinkling of sesame or poppy seeds.
Karen started me off on this, and it is delicious and very healthy.
We usually mix up a big batch and keep some in the freezer.
You can be a bit creative with this, but here is what usually goes into our mix :-
About equal amounts (say 500 grms each) of oats, bran, wheatgerm and dessicated coconut.
A selection of dried berries – blueberries, raspberries, goji berries, cranberries, cherries etc.
Pumpkin seeds, sunflower seeds, linseeds as well as whatever chopped nuts you can get – walnuts, hazelnuts etc.
Lastly some ground cinnamon, nutmeg and cloves – these just add that last "something" to the flavour, as well as being good for you.
When I soak it overnight, I add a spoonful of protein powder in as well.
For more low carb and meat free recipes go to the recipes home page – here.
Bon apetit.